On 11 April 2017, the VCDNP hosted a seminar entitled "Cruise Control: Can We End Nuclear-Armed Cruise Missiles Globally?" The seminar was held by Hon. Andrew Weber, former US Assistant Secretary of Defense for Nuclear, Chemical and Biological Defense Programs and Senior Fellow at the Belfer Center for Science and International Affairs at Harvard University, and Christine Parthemore, Consultant and Adjunct Professor at Johns Hopkins University.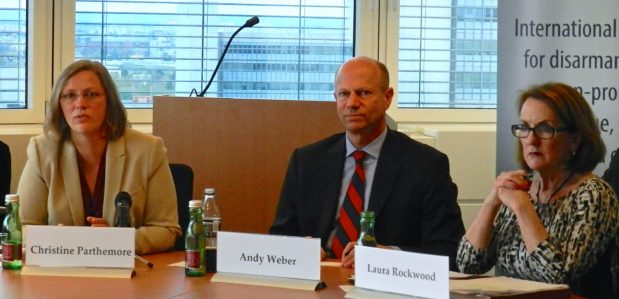 Former Assistant Secretary Weber opened the discussion by providing insight on the current state of play of nuclear cruise missiles and identified the unique challenges posed by these weapons. Weber highlighted the destabilizing nature of cruise missiles by arguing that they can cause ambiguity since they come in both nuclear and conventional variants. He referred to the 2015 op-ed piece, co-authored with former US Secretary of Defense William J. Perry, which called for the cancellation of the Long-Range Standoff (LRSO) weapon programme of the US Air Force. Weber gave an overview of America's long-standing nuclear and missile policy and criticized the dangerous logic behind maintaining LRSO for its potential tactical use in de-escalating a crisis. While noting that Russia, India and Pakistan may also be on the cusp of triggering a new expansion of these high-risk nuclear weapons, Weber argued that the US should use its position to spearhead a global campaign to end this class of weapons. Given China's historical position of not getting involved in an arms control conversation with the US and Russia unless both significantly reduce the number of missiles they possess, Weber suggested that the US could engage China in these discussions by shifting the conversation from the number of nuclear weapons in stockpiles to the non-deployment of an entire class of them by focusing on nuclear-armed cruise missiles.
Christine Parthemore then took the floor and provided an overview of the international response to the cruise missile control debate. She explored the potential role of the international community to foster a global end to nuclear-armed cruise missiles. She posited that this conversation can take place not only among nuclear-weapon States but also among non-nuclear-weapon States to restrain this class of weapons. While highlighting the concerns over ongoing testing of nuclear-capable cruise missiles by India and Pakistan, she also referred to the positive discussions taking place in the UN First Committee and at the UN Institute for Disarmament Research in assessing the risks of cruise missiles. She emphasized the need for a step-by-step approach, bringing together nuclear- and non-nuclear-weapon States, which in her view is already being debated intensively.
During the question and answer session, the speakers acknowledged emerging challenges to strategic stability resulting from advanced conventional and non-conventional weapon systems. While advanced weapons create new security risks, there is a possibility to muster support to control air, sea-, and ground-launched nuclear cruise missiles by highlighting the mutual security interests of the States involved. They noted that the US has in the past undertaken unilateral reductions in its tactical nuclear weapons and it could set an example again by spearheading a global campaign to control nuclear cruise missiles. To attain that objective, there is a need to expand the existing "coalition of the willing" in the US government. The speakers warned against the dangerous logic of the deterrent value of low yield nuclear weapons. While discussing difficulties in defending against cruise missile attacks, both speakers urged European States to pay closer attention to this issue as it affects their security. Answering a question regarding the role of ambiguity in the nuclear postures and doctrines to maintain deterrence, the speakers highlighted that a State's credibility is more important than the ambiguity factor in maintaining deterrence. Thus States should adopt postures which are aligned with doctrines that, in turn, will enhance the credibility of deterrence.
This event was live streamed. The video can be viewed below.