by Sitara Noor
28 March 2017
This article originally appeared in The News International.
The opinions expressed in the article are those of the author and do not necessarily reflect the views of the VCDNP.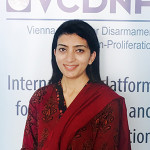 At the 2017 Carnegie International Nuclear Policy Conference, a biennial gathering of nuclear experts in Washington DC, Vipin Narang, a US-based South Asian nuclear expert, created quite a stir with his remarks on a potential change in India's nuclear approach towards Pakistan.
Read Sitara Noor's full commentary on Mr. Narang's remarks here.