Senior Research Associate
---
E-Mail: ukuehn@vcdnp.org, ukuehn@miis.edu
---
Background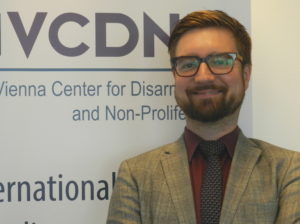 Ulrich Kühn (Ph.D.) joined the VCDNP as a Senior Research Associate in November 2017. Kühn is also a Nonresident Scholar with the Nuclear Policy Program at the Carnegie Endowment for International Peace and a Member of the trilateral Deep Cuts Commission. Previously, he worked for the German Federal Foreign Office. In 2011 he was awarded a United Nations Disarmament Fellowship. Kühn is an alumnus of the ZEIT Foundation Ebelin und Gerd Bucerius, and a former Stanton Nuclear Security Fellow. He has published on deterrence and arms control, international security institutions and transatlantic security. His articles and commentary have appeared, inter alia, in Foreign Affairs, The New York Times, Bulletin of the Atomic Scientists, The Washington Quarterly, and War on the Rocks.
Read more about Ulrich Kühn here.
Education
Kühn holds a Magister Artium in Medieval and Newer History, Political Sciences, and Newer German Literature from the Rheinische Friedrich Wilhelms University Bonn and a Master of Peace and Security Studies from the University of Hamburg. He completed his Ph.D thesis on "Cooperative Arms Control in Europe (1973–2014): A Case of Regime Decay?" in 2015 at the University of Hamburg, graduating summa cum laude (with highest honors). In his thesis, Kühn traced back the devolution of the regime network of cooperative arms control in Europe to power asymmetries between the United States and Russia, which emerged as a result of the end of the Cold War.
Selected Publications
"Germany's Nuclear Education: Why a Few Elites Are Testing a Taboo," (with Tristan Volpe) The Washington Quarterly 40, no. 3 (Fall 2017): 7–27.
"With Zapad Over, Is It Time for Conventional Arms Control in Europe?" War on the Rocks (September 27, 2017).
"Can Germany Be Europe's Nuclear Bridge Builder?" Carnegie Europe (August 25, 2017).
"Keine Atombombe, Bitte. Why Germany Should Not Go Nuclear," (with Tristan Volpe) Foreign Affairs 96, no. 4 (July/August 2017): 103–12.
"Europe's nuclear woes: Mitigating the challenges of the next years," (with Shatabhisha Shetty and Polina Sinovets) Bulletin of the Atomic Scientists 73, no. 4 (July/August 2017): 245–54.
"Russia, NATO, and the INF Treaty," (with Anna Péczeli) Strategic Studies Quarterly 11, no. 1 (Spring 2017): 66–99.
"U.S.-Russia Relations and the Future Security of Europe," Arms Control Today 47, no. 1 (January/February 2017): 18–25.
"Status-Neutral Security, Confidence-Building and Arms Control Measures in the Georgian Context" (with Sergi Kapanadze, Wolfgang Richter, and Wolfgang Zellner) (Hamburg: IFSH, 2017).