Research Associate
---
E-Mail: alazarev@vcdnp.org, alazarev@miis.edu
---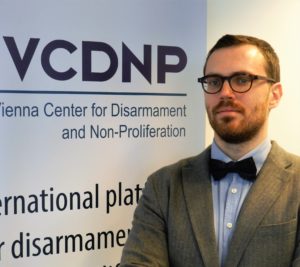 Artem Lazarev joined the VCDNP as a Research Associate in October 2017. Prior to that, he completed an internship at the Office of Legal Affairs of the International Atomic Energy Agency (IAEA) dealing with the legal aspects of nuclear safety, security and liability. Mr. Lazarev also worked as a lawyer at the European Court of Human Rights, mainly dealing with cases related to the right to a fair trial, prohibition of inhuman and degrading treatment, protection of property, right to respect for private and family life, and freedom of expression, among other things. He has also held several other legal posts in Russia and Spain.
Mr. Lazarev completed his PhD in International Law from the University Pompeu Fabra – UPF (Barcelona, Spain) in September 2017. His dissertation focused on the evolution of the legal aspects of the IAEA safeguards and their application to Iran. Previously he completed a Master II in Human Rights Law at the University of Strasbourg (2016), an Advanced Master in Legal Sciences at UPF (2011) and obtained a degree in International Relations and in Law from Tomsk State University in Russia (2007 and 2008, respectively).
Mr. Lazarev's research interests include safeguards, legal aspects of non-proliferation, and nuclear security, among others. He is fluent in Russian, English, Spanish, Catalan and French, and proficient in German.