---
E-Mail: gaukhar@vcdnp.org, gaukhar@miis.edu
---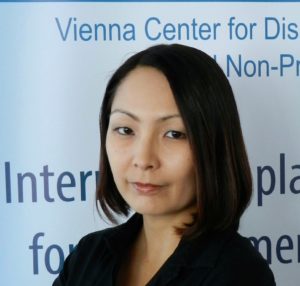 Areas of Research
Gaukhar Mukhatzhanova's research interests include multilateral non-proliferation regimes, international non-proliferation and disarmament negotiations and the role of coalitions, nuclear politics of the Non-Aligned Movement, nuclear-weapon-free zones, Iran's nuclear program, and proliferation theory.
Background
Ms. Mukhatzhanova is Director of the International Organizations and Non-Proliferation Program at the James Martin Center for Nonproliferation Studies (CNS), and is currently based in Vienna, Austria, at the VCDNP. She was previously Senior Research Associate and NPT Project Manager at CNS. Ms. Mukhatzhanova served as an expert on the delegation of Kazakhstan to the 2010 NPT Review Conference and the delegation of Chile to the 2015 NPT Review Conference. She has taught workshops and courses on Iran's nuclear program and on nuclear proliferation trends and trigger events at the Middlebury Institute of International Studies in Monterey. Prior to joining CNS, she was a Media and Outreach Specialist at the UN Development Programme in Kazakhstan.
Education
Ms. Mukhatzhanova received her MA in International Policy Studies, with distinction, from the Monterey Institute of International Studies (2007) and her BA in Journalism/Mass Communication, Cum Laude, from the American University in Bulgaria (2001).
Selected Publications