Senior Fellow
---
E-Mail: akane@vcdnp.org
---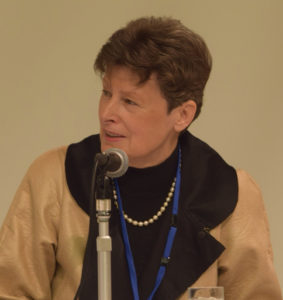 Areas of Research
Angela Kane is a globally-known expert in political relations and negotiations, peace operations and disarmament, operating in a complex multilateral environment.
Background
Angela Kane joined the VCDNP as a Senior Fellow in October 2015. Before joining the Center, Ms. Kane served as the United Nations High Representative for Disarmament Affairs until mid-2015, where she provided strategy, vision and thought leadership for the United Nations on its multilateral disarmament and non-proliferation agendas. She was responsible for planning, negotiating and conducting the ground-breaking investigation of alleged chemical weapons use in Syria in 2013, which resulted in Syria's destruction of its chemical stocks. Previously, Ms. Kane served as the Under-Secretary-General for Management, heading the largest and most complex UN department, with responsibility for the global financial and budgetary management of the UN (2008-2012). Ms. Kane also served as UN Assistant Secretary-General for Political Affairs, focusing on the prevention and resolution of conflicts in all regions except Africa. She also was the Assistant Secretary-General for General Assembly and Conference Management. Her field experience includes Deputy Special Representative of the Secretary-General for the United Nations Mission in Ethiopia and Eritrea (UNMEE), a special assignment to the Democratic Republic of the Congo and multi-year postings in Indonesia and Thailand.
Education
Ms. Kane holds degrees from Bryn Mawr College and the John Hopkins School of Advanced International Studies. She received an Honorary Doctorate from the Middlebury Institute of International Studies in Monterey, California.
Selected Publications
"Protection of Civilians in Armed Conflict: the View From the United Nations", chapter in "Gerechte Intervention? Zwischen Gewaltverbot und Schutzverantwortung", Stephanie Fenkaert, Heinz Gärtner, Hannes Swoboda (Hg.), Studien zur Friedensforschung, Ruhr-Universität Bochum, Universität Leiden, 2017
"The Lengthening Nuclear Shadow," in Riga Dialogue Afterthroughts 2017: Transforming Euro-Atlantic Security Landscapes, Latvian Institute for International Affairs, Riga, 2017
"Biological and chemical warfare," in the "Global Catastrophic Risks 2017", annual report produced by the Global Challenges Foundation.
"Gender in Power or Gender Empowering", Ukraine Analytica, Issue 1 (7), 2017
"A World Free of Nuclear Weapons; Is It Desirable? Is It Possible? And How Could it Be Achieved?", publication on the occasion of the 50th anniversary of the Treaty of Tlatelolco, February 2017
"Rethinking Strategic Stability," chapter written with Jenny Nielsen in Introducing Disarmament and Cooperative Security to the Toolbox of 21st Century Leaders, Dan Plesch, Kevin Miletic and Tariq Rauf, eds., SIPRI and SOAS University of London, January 2017